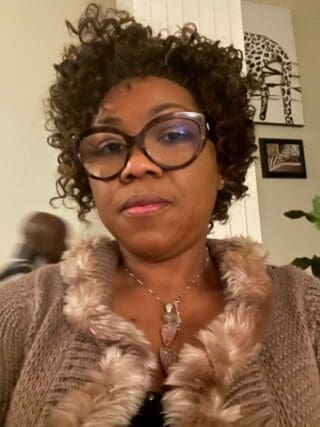 Not everyone is cut out to be a nurse. It takes a special kind of person—someone with an uncommon desire to help others. Nurses often feel called to their profession, and sometimes one's calling is revealed to them when they least expect it.
Oluwatoyin Ade Awopetu was born in Lagos, Nigeria. Her childhood presented challenges most of us can't fathom, with her parents struggling to keep her fed and clothed. Her journey to and from school was miles-long, one she made carrying a sack over her shoulder and a chair on her head. The chair was essential, otherwise she would have to sit on the floor. These experiences left Ade certain there had to be more to life.
In the summer of 1995, Ade married the love of her life, Jonathan Obafemi Awopetu, and gave birth to her first child. A few weeks after their wedding, Jonathan traveled to the United States after being awarded access via the US Visa Lottery. Ade knew this could open up a world of new opportunities. After spending six years apart, she and her son joined Jonathan in Kansas City in 2001.
Tragedy struck in 2007 when Ade lost her only daughter before she was born. This moment of utter devastation, while excruciating, was softened through the shower of love Ade received from the doctors and nurses at Truman Medical Center. There, she realized that healthcare
workers do not just merely show up to work and collect a paycheck—they are deeply invested in the human experience, devoted to the well-being of others in a way that made them nothing short of superheroes. Despite her heartbreak, Ade left that hospital knowing she had found her calling.
In 2008, Ade began her healthcare journey and acquired a CNA certificate. Eight years later, she became an LPN, working with terminal-ly ill patients in various skilled nursing homes. Today, Ade continues her LPN work with KPC Promise Hospital in Kansas City, Kansas. She has served on the frontlines with COVID-19 patients and has witnessed, over the last year, both recovery and loss. Motivated by the desire to improve her patient care, Ade decided to pursue an Associate's Degree in Nursing.
It was her son who brought Cox College to her attention. She applied and was accepted, but almost immediately faced a hurdle due to financial challenges, one which prompted her to drop her classes on the first day of the program. But Ade's story was far from finished—she met with a couple of key staff members at Cox College and was made aware of some financial benefits. In a flash, Ade was back on track and is now working on her ASN degree.
Because of her positive experience, both of her sons have decided to follow in their mother's footsteps and attend Cox College to become nurses. Three members of the same family are now working together to achieve their goals.
Nurses and health care professionals touch the lives of people every single day, whether they realize it or not. Ade's experience from 2007 left a lasting impact and mapped out her future. As a wife and mother of four, Ade is determined to provide her children with a better life than the one she knew. She has now become the superhero she once admired, and is well on her way to raising a new generation of healthcare champions.