Your career in health care is closer than you may think. Becoming a nurse doesn't require endless years of education. You can earn your Associate of Science in Nursing (ASN) degree in just two years. An ASN will prepare you to:
Draw from an extensive knowledge of nursing to provide direct care for patients in structured health care settings
Become a highly regarded role model
Offer patient care with the highest legal, ethical and professional standards
Connect with clients, their family members, and your health care team
Apply the latest health care research findings in nursing practice
As a graduate, you will be ready to take the National Council Licensure Examination for Registered Nurses (NCLEX-RN®). Once you pass, you will be eligible to be a registered nurse.
Note: According to Missouri Statutes Chapter 335, RSMo and Missouri Code of State Regulations 4CSR 200-1.010 to 4CSR 200-6.010, completion of a nursing degree program does not guarantee eligibility to take the licensure examination.
For specific Nursing policies, refer to the Nursing Student Handbook.
For Admissions requirements, please refer to the college catalog or the admission web pages.
Year One
This is your fast track to becoming an RN. In your first year, you will build a strong foundation of clinical application and pharmacology while learning technical skills from hands-on training. You will work in a clinical setting, learning from nurses in their day-to-day roles.
Year Two
The second year will apply the knowledge gained in your first year, expanding to more complex patients and preparation for the National Council Licensure Examination.
Real Life
You will get the practice you need at our on-campus simulation center. This state-of-the-art facility offers "real-life" situations where you can practice in a controlled environment.
New cohorts start every fall and spring. Your heroic journey in health care starts at Cox College.
Our nursing students come from a wide range of backgrounds.
That's why we offer three program options to fit your needs:
Springfield Campus
Are you here in town? Go through our ASN program at our main Springfield campus.
Monett Campus
Are you southwest of town? You can get your ASN at our satellite location in Monett, MO.
Night & Weekend Classes
Already working full-time? Further your career on the side with night and weekend classes.
"As a non-traditional student, the decision to go back to school was scary to say the least. However, I found the staff to be extremely welcoming and willing to go above and beyond to see their students succeed. Additionally, I was pleased to learn that there are several great ways to be involved outside of attending classes, which was important to me personally. I am forever grateful for my experiences at Cox College!"
Shelly Bassham, RN
ASN Admissions Requirements
PUBLIC NOTICE OF UPCOMING ACCREDITATION REVIEW VISIT BY THE ACEN
Cox College wishes to announce that it will host a site visit for continuing accreditation of its ASN program by the Accreditation Commission for Education in Nursing (ACEN).
You are invited to meet with the site visit team and share your comments about the program in person at a meeting scheduled at Cox College on September 21, 2022 at 1:30 pm. The college is located at 1423 N. Jefferson Ave. Springfield, MO 65802.
Written comments are also welcome and should be submitted directly to:
Dr. Marsal Stoll, Chief Executive Officer
Accreditation Commission for Education in Nursing 3390 Peachtree Road Northeast, Suite 1400
Atlanta, GA 30326
Or email: mstoll@acenursing.org
All written comments should be received by the ACEN by September 6, 2022.
We are excited to welcome the Accreditation Commission for Education in Nursing (ACEN) to Cox College later this fall!
The upcoming ACEN accreditation visit is part of the normal eight-year accreditation cycle. The ASN program at Cox College participates in the voluntary accreditation process as yet another mark of excellence for the program. We look forward to the visit and to demonstrating our continued efforts to educate strong nurses ready to enter the workforce of tomorrow.


Programs
No matter your focus, we offer a path to your success.
Associate, Bachelors, and Masters degrees in Nursing
Masters in Nutrition Diagnostics
Masters in Occupational Therapy
Bachelors in Diagnostic Imaging
Associate degrees in both Radiography and Medical Assisting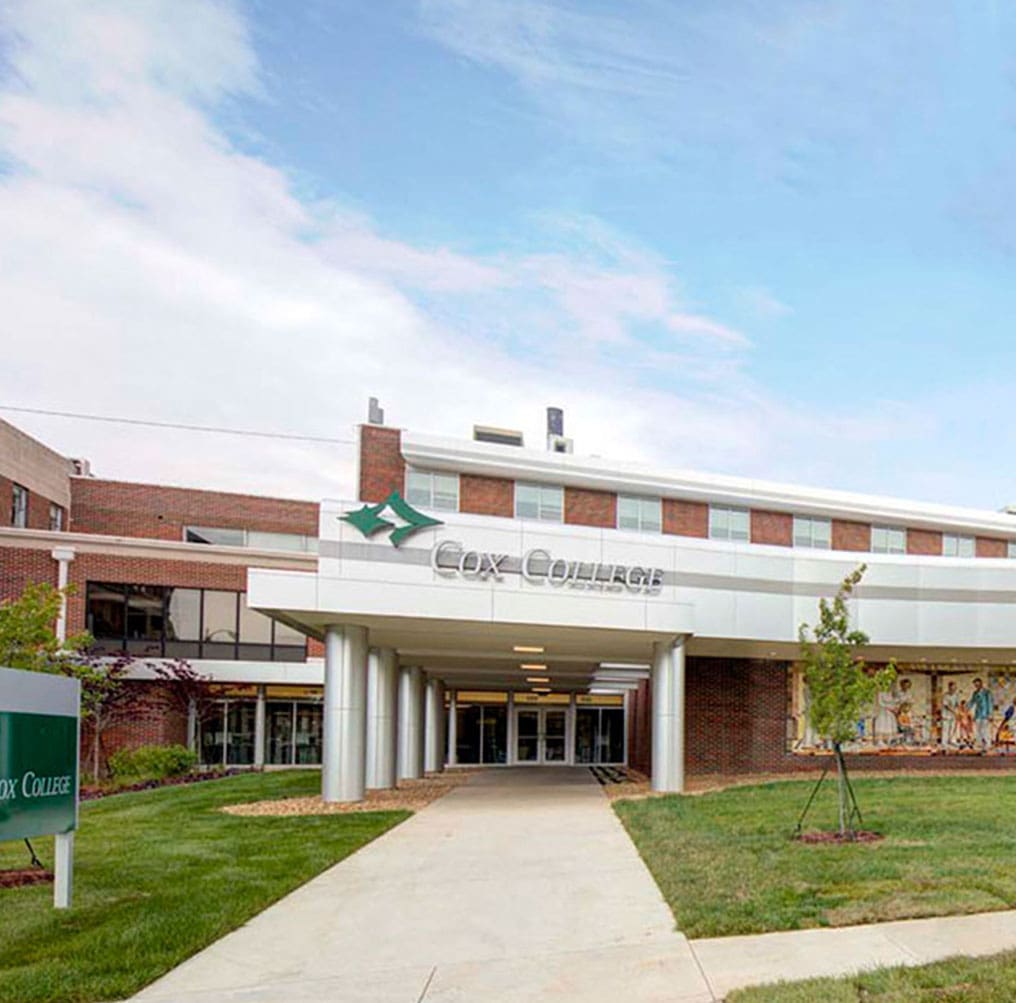 About Cox College
For more than 100 years, we've helped shape compassionate, dedicated nurses who help others. Our private college of nearly 900 students is based in Springfield, Missouri. As our student, you can expect meaningful faculty interaction in smal classes, diverse practical experiencs, and leadership opportunities.
We're accredited by the Higher Learning Commission, Accrediting Commission for Education in Nursing and more.
Take A Look