Master of Science in Occupational Therapy
Credit hours to complete program
%
Job Placement Rate within one year of graduation
*Wage and job growth based on Statistics from Bureau of Labor Statistics.
When development or injury has negatively affected someone's world, occupational therapists help people return to meaningful activities that support the highest quality of life.
Our Master of Science in Occupational Therapy (MSOT) program uses a multimodal approach to curriculum delivery, equipping you to succeed in diverse healthcare environments. We also encourage reflective practice to promote critical thinking, clinical reasoning, and problem-solving skills.
The best occupational therapists often have excellent interpersonal skills and strong interests or backgrounds in psychology/social sciences, athletic performance/movement, anatomy, and neuroscience. That's why our program emphasizes these proficiencies to help train you as a leader in your field.
Cox College's MSOT program is unique because we only require 70 undergraduate credit hours to start the program! This will save you almost an entire year's worth of time and money. If you are looking for an accelerated path to health care, our MSOT program is a great option!
Department of Occupational Therapy at Cox College: To be the best for those who need us.
The mission of the Department of Occupational Therapy at Cox College is to create evidenced-based practitioners who are client-centered, occupation-driven, and clinically competent. We achieve this mission by:
Utilizing a multi-modal curriculum that promotes knowledge translation, resulting in therapists equipped to meet the needs of diverse populations. (KNOWING)
Encouraging professional identity development through hands-on practice and reflection to develop critical thinking and advance clinical reasoning, resulting in effective problem solving skills. (DOING)
Advancing the profession of occupational therapy through innovation, evidence-based practice, and scholarly contributions. (ADVANCING)
Committing to life-long learning through professional development, service, and inter-disciplinary collaboration in order to improve the health of the communities we serve. (LEADING)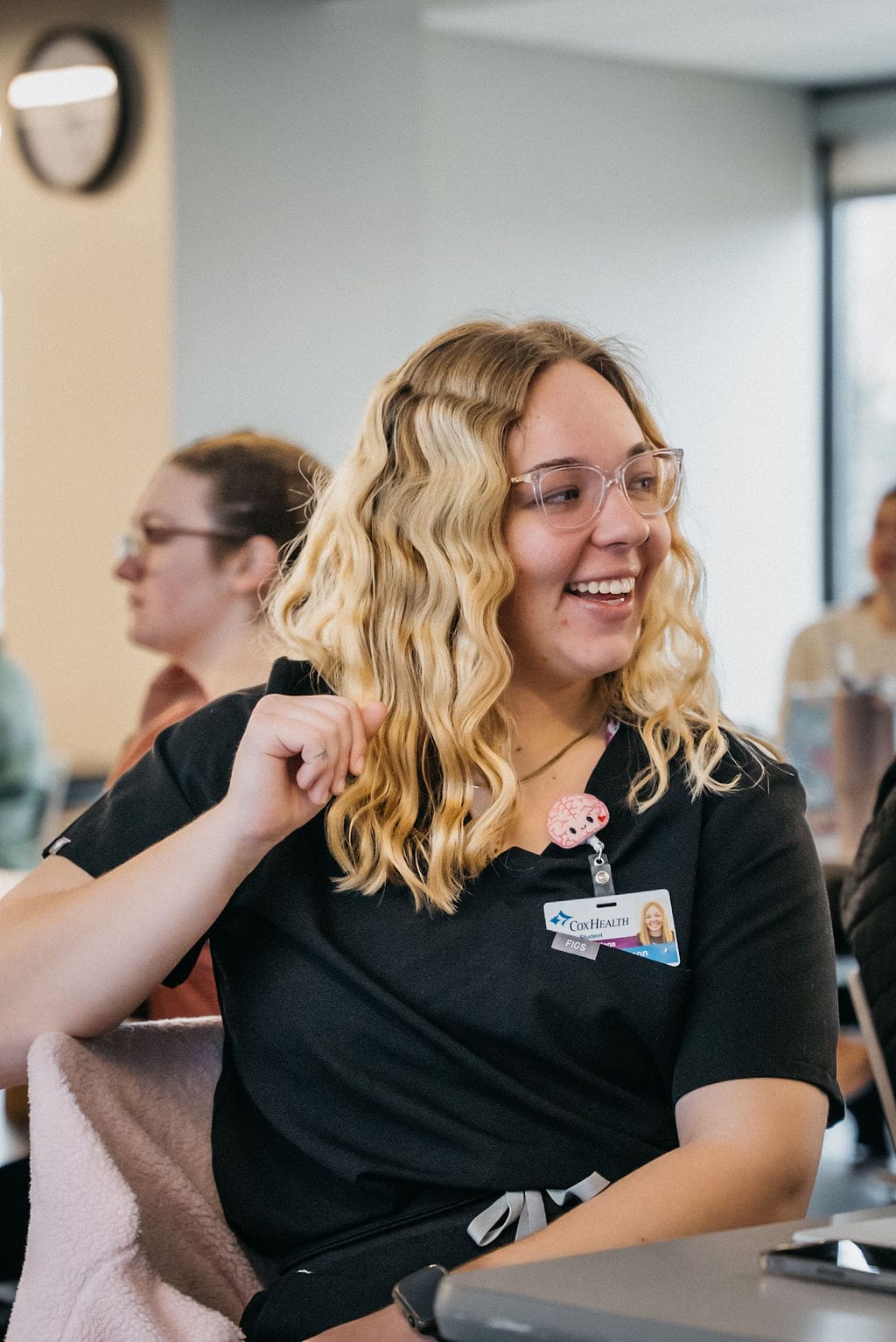 Year One
You will be busy your first year, diving into a variety of compelling topics—kinesiology, occupational therapy foundations, human occupation, neuroscience, innovation strategies, research, and more!
Year Two
Take a deep breath, because the second year will build on your first-year foundation of skills to develop you into the well-rounded occupational therapist you're destined to be. While spending extensive time in the field and clinical placement, you will also learn to critically appraise evidence to determine the best course of treatment for your patient.
Real-Life Experience
Part of your training will include participating in simulations OTs face every day, preparing you to be a highly trained professional who can adapt to multiple contexts. By blending book work with real-life experience, you will be ready to graduate and ace your licensure exam.

"I'm so grateful for the Cox College MSOT faculty. They truly went above and beyond to support me throughout the program and at the start of my career."
Katie Colford Greenwood, MSOT '18
The application deadline for Fall admission is March 1. The application process, prerequisite courses, and other admission requirements are listed in the MSOT checklist.
MSOT applicants must complete two different online applications:
Cox College Graduate Application.
Accreditation
The Cox College Occupational Therapy Program is accredited by the Accreditation Council for Occupational Therapy Education (ACOTE) of the American Occupational Therapy Association (AOTA), located at 6116 Executive Boulevard, Suite 200, North Bethesda, MD 20852-4929. ACOTE's web address is AcoteOnline.org.  ACOTE'S telephone number, C/O AOTA, is (301) 652-AOTA.
Graduates of the program will be eligible to sit for the national certification examination for the occupational therapist, administered by the National Board for Certification in Occupational Therapy (NBCOT). After successful completion of this exam, the graduate will be an occupational therapist, registered (OTR). In addition, most states require licensure to practice; however, state licenses are usually based on the results of the NBCOT certification examination. A felony conviction may affect a graduate's ability to sit for the NBCOT certification examination or attain state licensure.