Cox College Chronicle | April 2022
This is your annual reminder that April showers bring May flowers! All of the hard work you are putting in is about to come to fruition. It might be hard to see right now, but the end is in sight.
You got this. Keep going!
Good news for the BSN program
The BSN program at Cox College recently received full reaffirmation of accreditation from the Missouri State Board of Nursing!
As always, excellent job by our faculty and administration for knocking the visit out of the park! We are excited and proud, but not surprised to see this outcome.
New to Cox College
Carrie Miller, OTR/L is the new Academic Fieldwork Coordinator and Assistant Professor for our Occupational Therapy program!
As a 2019 graduate of the Cox College OT program, Professor Miller has a strong connection to our program and is the first graduate to join as a full-time faculty member. She has a variety of clinical experience in the inpatient rehabilitation setting and has treated individuals impacted by neurological events such as traumatic brain injury, stroke, and spinal cord injuries as well as cardiac and pulmonary related diseases. Her work as a pediatric occupational therapist has primarily been providing individual and group treatment to school aged children.
She is actively involved in the community, specifically with organizations that work to promote health and wellness for the children and youth of the Ozarks. Welcome, Carrie! We're glad you're here.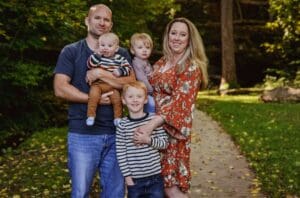 DAISY Award
This semester's student DAISY Award winner is Par Hnem! Par is in our ASN program.
Recipients of the DAISY Award can be nominated by faculty members or by other students. Congratulations, Par!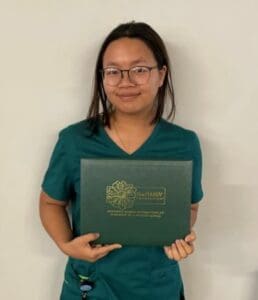 Career Fair
We hosted our first career fair in over two years! 19 vendors from all over the region came to talk with our students about job opportunities. This is always a great event and the benefits are mutual for everyone involved!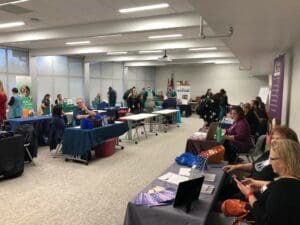 Special visitor on campus
Students in our Occupational Therapy program were visited by a very good boy named Hank! They learned about Hank's role in health care and how he's able to help people with various needs.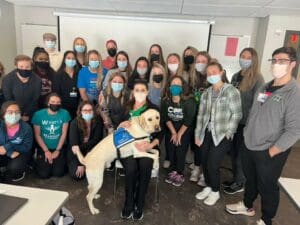 Important hotline numbers to note
In a crisis or feeling distressed? There is free and confidential support available to help you. Representatives are ready to help with resources to address your situation with the hotline numbers listed below.
National Suicide Prevention Hotline 1-800-273-8255
Domestic Violence Hotline 1-800-799-7233
Crisis Text Line 741741
Crisis Hotline for Southwest Missouri 1-800-494-7355
24-hour Burrell Behavioral Crisis Center 417-893-7735
Cox North Security 417-269-3715
Cox South Security 417-269-6120
How to submit news for future editions of The Chronicle
If you would like to submit Cox College related news to be considered for the next edition of The Chronicle, please send an email to Kyle.DeVries@coxcollege.edu.