Cox College Chronicle | August 2022
The semester is officially underway! The parking lot is full, the halls are bustling, and energy levels are high! We hope all of our students and faculty have an amazing semester.
Cox College announces new BSN program
Beginning in January 2023, we will launch the BSN Fast Track program! This innovative track allows students to earn their Bachelor of Science in Nursing (BSN) degree in as quickly as three years with no prior Bachelor's degree required.
We are taking applications for this program immediately with the intention to start classes in the spring semester. We are so excited about the opportunity this provides for students who want to get into the field quickly with their BSN!
Faculty member completes DNP
Congratulations to Jaclyn Curnutt for completing her Doctor of Nursing Practice (DNP) degree! Dr. Curnutt is an Assistant Professor in our MSN program.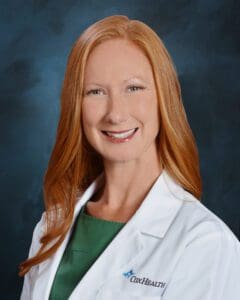 New face in admissions
Our new Admissions Counselor is Addy Emmons!
Addy moved to Springfield in 2020 to begin her Master's program at Missouri State University. While she was there, she worked with the Student Engagement and First-Generation Student Support teams. In her free time, she enjoys yoga, kayaking, and traveling. She loves getting to know students as they begin their journey in health care.
She will be working with our ASN, ASR, and LPN to ASN programs. Welcome to the team, Addy!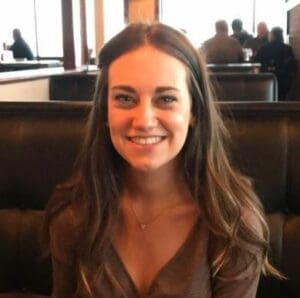 MSOT students making a difference
Nixa's Early Learning Center needed an outdoor area for the kids to play, but didn't have a suitable place to do so. With a few grants and some help from great people like our MSOT students, they were able to construct a brand new play area! The space looks amazing and the kids love it. We're so proud of our MSOT students for the hard work they put into this project, and for the compassion they showed to people in our community.
Check out the video here: https://twitter.com/nixaschools/status/1559132800665649152
Raffle for Chiefs tickets
We are celebrating the start of football season by raffling off two tickets to a Kansas City Chiefs game! 100% of the funds from the raffle will benefit our student emergency fund.
The game is November 6 at 7:20pm vs the Tennessee Titans. The tickets are valued at $600 total and are in section 107. You can be eligible to win them for as little as $10, but you increase your chances of winning with every ticket you purchase. We will draw a winner on October 5.
Purchase your raffle tickets at the link below! Good luck!
https://www.coxhealthfoundation.com/event/kansas-city-chiefs-ticket-raffle-to-support-cox-college/?fbclid=IwAR2lyMLM8ycFDiHatMbsngqW8b_C4ve_-6Fz67lWKwJWTpO-WuAcdvcZBBs
Convocation
It was great to see all of our workforce at Convocation earlier this month. We don't often have everyone in the same room at the same time, so it's special to catch up and visit when we do have that opportunity. Convocation is always a great way to welcome in the new semester.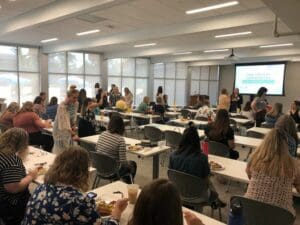 Greater Ozarks Cooperating School Districts Innovation Summit
Cox College was honored to be a tier 1 sponsor at the Greater Ozarks Cooperating School Districts Innovation Summit in early August. We so appreciate the educators in our area and what they continually do for the future of southwest Missouri. Our Admissions Counselors enjoyed visiting with attendees!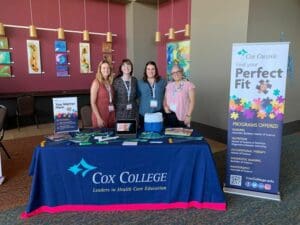 Important hotline numbers to note
In a crisis or feeling distressed? There is free and confidential support available to help you. Representatives are ready to help with resources to address your situation with the hotline numbers listed below.
National Suicide Prevention Hotline: 988
Domestic Violence Hotline: 1-800-799-7233
Crisis Text Line: 741741
Crisis Hotline for Southwest Missouri: 1-800-494-7355
24-hour Burrell Behavioral Crisis Center: 417-893-7735
Cox North Security: 417-269-3715
Cox South Security: 417-269-6120
How to submit news for future editions of The Chronicle
If you would like to submit Cox College related news to be considered for the next edition of The Chronicle, please send an email to Kyle.DeVries@coxcollege.edu.