Cox College Chronicle | June 2021
Ken Meyer retirement
Ken Meyer is retiring from his position on Cox College's Board of Directors after many years of service. Ken is the Founder and former CEO of Meyer Communications in Springfield, Missouri. Pictured below is Ken Meyer with Cox College President, Dr. Amy DeMelo, Cox College Board Chair, Dr. Bob Lunn, and President of the CoxHealth Foundation, Lisa Alexander.
We are thankful for Ken's service to Cox College and for his positive influence on the entire southwest Missouri area!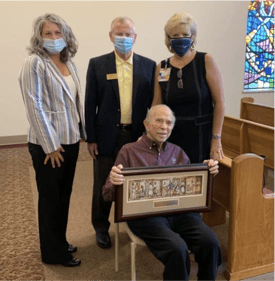 New team member
Please join us in welcoming Anna Whelan to the Cox College team! Anna will be taking on a completely new role at Cox College as the Student Success Coordinator. She will serve as an advisor for our RN-BSN program and MSN program, while assisting with recruiting for all programs.
Anna was already working for CoxHealth before transferring to Cox College and has a Bachelor's degree in Psychology and a Master's degree in Applied Behavior Analysis. Welcome, Anna! We're so glad you're here.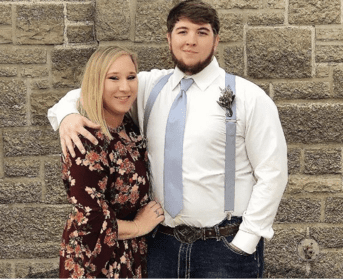 Preferred housing for Cox College students
Looking for an apartment this fall? Cox College students can skip one installment at The 505 Apartments in Springfield!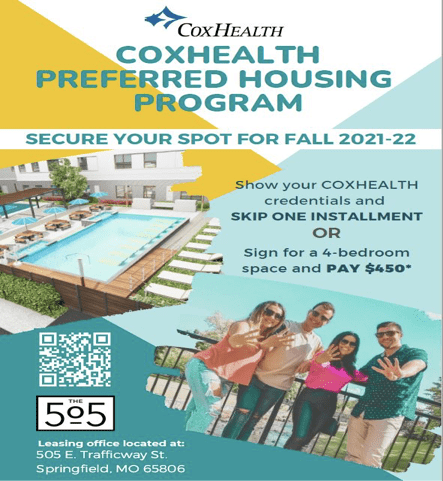 Job opportunity with CoxHealth
Due to the rise in Covid patients, CoxHealth is looking to hire PPE Monitors. This is a temporary PRN position and hours are very flexible.
Check out the job descriptions and apply for these positions here!
Who doesn't like free stuff?
Your feedback is important to us! Leave us a review on Facebook for a chance to win a Cox College tumbler and t-shirt!
We will randomly select a name on July 8, so make sure to submit your review by then to be eligible.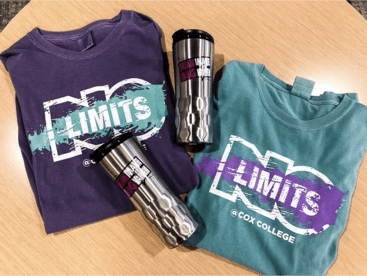 Important hotline numbers to note
In a crisis or feeling distressed? There is free and confidential support available to help you. Representatives are ready to help with resources to address your situation with the hotline numbers listed below.
National Suicide Prevention Hotline 1-800-273-8255
Domestic Violence Hotline 1-800-799-7233
Crisis Text Line 741741
Crisis Hotline for Southwest Missouri 1-800-494-7355
24-hour Burrell Behavioral Crisis Center 417-893-7735
Cox North Security 417-269-3715
Cox South Security 417-269-6120
How to submit news for future editions of The Chronicle
If you would like to submit Cox College related news to be considered for the next edition of The Chronicle, please send an email to Kyle.DeVries@coxcollege.edu.