Cox College Chronicle | April 2021
"April showers bring May flowers" is a common phrase that's often expressed this time of year. The frequent rainstorms are becoming a bit old, and we're all ready for flowers and warm weather. However, we couldn't have the beautiful flowers of May without the rain that April brought beforehand. 
One could say the same about the life of a student. The semester is filled with stress and hardships. Classes are rigorous and difficult, but having your eyes set on the end goal is what gets you through it. "April showers bring May flowers" is a reminder that your hard work will soon pay off. When you're finally in the field, doing what you were called to do, you'll be thankful for those April showers.
Students, staff, and faculty, you made it through the semester. It's time to finish strong and send our graduates off to make a difference in the world!
Virtual Graduation
Speaking of graduation, we will be having a virtual graduation ceremony on May 14. We are so excited to share this experience with our graduates and their families, and to celebrate the hard work and accomplishments from their time at Cox College.
The virtual graduation video will air live on our Facebook and on CoxCollege.edu at 1pm on May 14, and will be available for viewing afterwards.
Faculty member earns recognition
Dr. Dustin Cox, MSOT faculty, was awarded the title of Junior Researcher by the Association of Contextual and Behavior Sciences World Conference for a fidelity tool he developed and piloted!
The tool he developed was a self-rated fidelity measure for clinicians that are learning Acceptance and Commitment Therapy. There is currently no self-rated fidelity measure available and he needed one for his dissertation project. When something doesn't exist, just invent it, right? 
He piloted the fidelity measure during the summer of 2020 through an online survey for Acceptance and Commitment Therapy clinicians across the world, and was able to collect enough data to run outcomes on the measure and how it was used. He then presented those outcomes at the Association of Contextual and Behavior Sciences World Conference.
He received some well-deserved praise from his students too. Congratulations, Dustin!
Scholarship opportunity
The Texas County Memorial Hospital Healthcare Foundation is offering seven $1,000 scholarships for the upcoming fall semester! TCMH has a passion for supporting the education of health care professionals in our area.
Applications are being accepted now through July 1, 2021. Click the link below to apply or to find more information.
Cox College staff update
We will be welcoming a new team member in May! Alee Becker will be our new Admissions Counselor-Recruiter. Alee is graduating from Missouri State this semester with a degree in Marketing Management and will be joining us in late May.
Alee has experience with recruitment and digital marketing, and has a side business designing charcuteries! She will be handling recruitment efforts for the Medical Assisting, ASN, LPN-ASN, MSN, MSOT, and ASR programs. Welcome, Alee!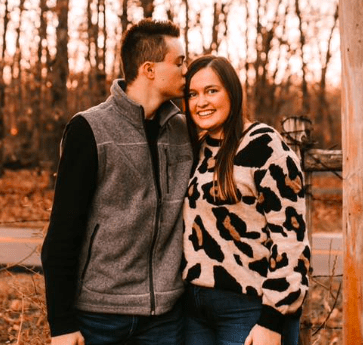 Accolades for two Cox College programs
Two of our programs shared good news this month regarding their 2020 graduates. The Associates of Science in Nursing (ASN) graduates had a 93% NCLEX pass rate and the national average in 2020 was 83%.
The 2020 Associate of Science in Radiography (ASR) graduates had a 100% first time pass rate on the JRCERT exam, and all of those graduates are currently employed! That's not a fluke; our ASR program has a 100% job placement rate in the last five years!
Congratulations to the graduates and the faculty from these programs. Their hard work and dedication is evident!
Blood drive
The next blood drive at Cox North is Monday, May 3 from 8am-4pm in the Fountain Plaza Room. Blood levels are critically low right now, so the Community Blood Center is hoping to get all the assistance they can next week! Let's have a great turnout and save lives!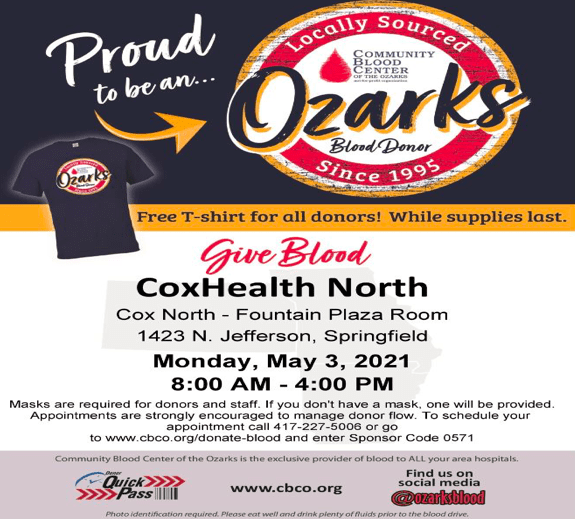 MSOT CarFit Event
Second year MSOT students are holding a CarFit event on Tuesday, May 4 from 11:30am-12:30pm in Cox College's parking lot near Benton Avenue. As we age, adjustments may need to be made to our vehicles to allow a safer and more comfortable driving experience. At this event, trained technicians (our MSOT students) will help drivers optimize their car's fit for them.
Important hotline numbers to note
In a crisis or feeling distressed? There is free and confidential support available to help you. Representatives are ready to help with resources to address your situation with the hotline numbers listed below.
National Suicide Prevention Hotline 1-800-273-8255
Domestic Violence Hotline 1-800-799-7233
Crisis Text Line 741741
Crisis Hotline for Southwest Missouri 1-800-494-7355
24-hour Burrell Behavioral Crisis Center 417-893-7735
Cox North Security 417-269-3715
Cox South Security 417-269-6120
How to submit news for future editions of The Chronicle
If you would like to submit Cox College related news to be considered for the next edition of The Chronicle, please send an email to Kyle.DeVries@coxcollege.edu.