Cox College Chronicle | December 2022
We ended 2022 on a happy note with graduation and other celebratory ceremonies. As the page turns to 2023, we embrace a fresh start.
Here's what happened in December!
Commencement
On December 16, 138 Cox College students officially became health care professionals! Each journey was uniquely their own.
It's always a privilege to see our students ascend to the final stage of their time at Cox College. Despite the challenges of balancing work, difficult classes, and life in general, they were the victors in the end. We are so proud of everything they have accomplished, and we cannot wait to see how they will continue to succeed from this point on!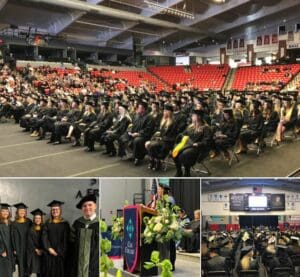 Nightingale Ceremony
It was a beautiful evening of celebration at Spence Chapel on the campus of Evangel University. Florence Nightingale would be proud of each one of the nursing students who were pinned that night.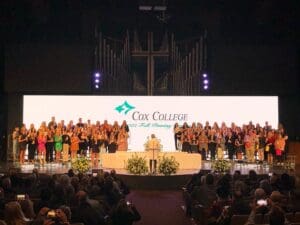 Student DAISY Award Winner
The DAISY Award recognizes students who have gone above and beyond to show compassion and excellence in patient care. Recipients of the award can be nominated by faculty members or by other students.
The fall semester's DAISY Award winner was Chance Hasten! Chance is a third semester BSN-E student, and is the Vice President of Cox College's Student Nurses Association (SNA). Congrats, Chance!
Other students nominated were Daniela Arrubla, Emily Floyd, McKenna Poling, Tara Scott, and Clint Anderson.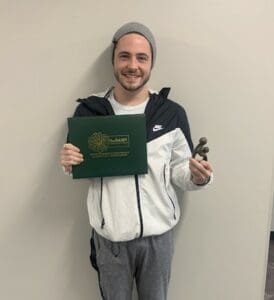 Cox College faculty member published in Nurse Education Today
Dr. Carol Conley, Associate Professor at Cox College, conducted research that was recently published in Nurse Education Today. The descriptive study Dr. Conley conducted was focused on student nurses and their self-efficacy for end-of-life and post mortem care.
We are thrilled for Dr. Conley and congratulate her on this accomplishment! Thank you for being a tremendous representative for Cox College.
You can read Dr. Conley's research here: https://www.sciencedirect.com/science/article/pii/S026069172200435X?via%3Dihub
Cox College Holiday Party
Food, fellowship, and gifts were enjoyed by all at Cox College's holiday party! Tina Toles was the winner of the ugly sweater contest!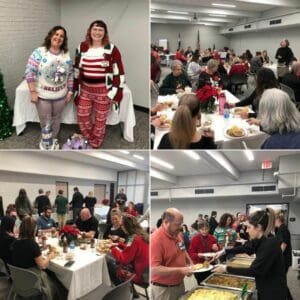 2022 Fall Semester President's List
Congratulations to these students for their outstanding academic achievements!
https://coxcollege.edu/presidents-list-fall-2022/
Important hotline numbers to note
In a crisis or feeling distressed? There is free and confidential support available to help you. Representatives are ready to help with resources to address your situation with the hotline numbers listed below.
National Suicide Prevention Hotline: 988
Domestic Violence Hotline: 1-800-799-7233
Crisis Text Line: 741741
Crisis Hotline for Southwest Missouri: 1-800-494-7355
24-hour Burrell Behavioral Crisis Center: 417-893-7735
Cox North Security: 417-269-3715
Cox South Security: 417-269-6120
How to submit news for future editions of The Chronicle
If you would like to submit Cox College related news to be considered for the next edition of The Chronicle, please send an email to Kyle.DeVries@coxcollege.edu.