Cox College Chronicle | June 2022
Radiography exam scores
The ASR program received great news earlier this month regarding test scores. 100% of the 2022 graduates passed the ARRT registry exam on their first attempt! Job well done by our graduates and the ASR team.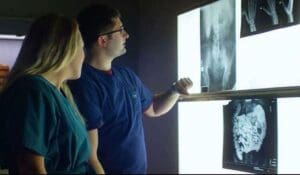 CVS Health Foundation Scholarship Recipients
Three MSN students have been nominated to receive the $1,000 CVS Health Foundation Scholarship! This scholarship is awarded to students who represent a high level of integrity in their academic work and in the community. The recipients are Elizabeth Harris, Hope Cureton, and Amelia Shuler! Congrats, ladies!
Burge alumni passes away
We are sad to report that Barbara Pittman has passed away. Barbara graduated from Burge School of Nursing with her RN and BSN degrees. Her daughter in law, Kathy Pittman, is currently a faculty member at Cox College.
Barbara was a great nurse and dedicated her life to helping others. Her final job as a nurse was with the Visiting Nurse Association, from where she retired after 22 years of service. She was loved by many and will be missed. If you would like to make a memorial contribution online, the link to CoxHealth Foundation's website is below. Please write "Barbara Pittman" in the text box.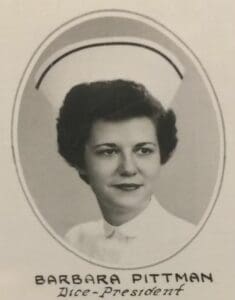 MSN alumna in the news
Congratulations to one of CoxHealth's newest advanced practice providers, Emily Bossert, NP! Emily is a 2021 MSN graduate of Cox College and will be working in Family Medicine at CoxHealth Forsyth.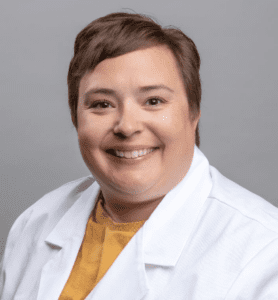 Girls just wanna run event
There's still time to register for the CoxHealth Foundation's annual Girls Just Wanna Run event on July 23! The proceeds will benefit Woman's Services of the CoxHealth Foundation. All participants will receive a t-shirt or tank and finisher's medal!
Register here: https://actnowracing.com/events/727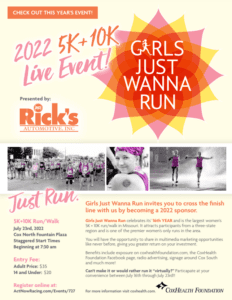 Important hotline numbers to note
In a crisis or feeling distressed? There is free and confidential support available to help you. Representatives are ready to help with resources to address your situation with the hotline numbers listed below.
National Suicide Prevention Hotline: 988
Domestic Violence Hotline: 1-800-799-7233
Crisis Text Line: 741741
Crisis Hotline for Southwest Missouri: 1-800-494-7355
24-hour Burrell Behavioral Crisis Center: 417-893-7735
Cox North Security: 417-269-3715
Cox South Security: 417-269-6120
How to submit news for future editions of The Chronicle
If you would like to submit Cox College related news to be considered for the next edition of The Chronicle, please send an email to Kyle.DeVries@coxcollege.edu.