Cox College Chronicle | March 2022
Faculty members receiving promotions
Congratulations to the following faculty members who have been promoted for the 2022-2023 academic year!
Dustin Cox was promoted from Assistant Professor to Full Professor
Daniel Edwards was promoted from Instructor to Associate Professor
Michelle Jackson was promoted from Assistant Professor to Full Professor
Michelle Jacobs was promoted from Assistant Professor to Full Professor
Lindsey Kelsay was promoted from Instructor to Associate Professor
Well done, everyone!
New Cox College apparel
Now available at Primrose Perk coffee shop… Cox College apparel!
Brand new hoodies, quarter-zip pullovers, T-shirts, sweatpants, water bottles, and lanyards are all available. Proceeds from apparel sales will go towards our student emergency fund!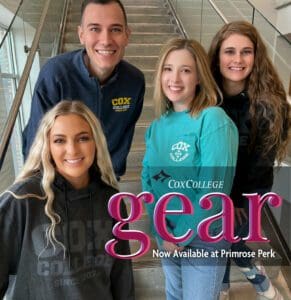 High school students visit campus
In the past few weeks, we hosted health sciences students from Scott Regional Tech Center in Monett and Gibson Tech in Reeds Spring! It's been awesome to meet so many aspiring health care professionals with big goals on their minds.
Students visited our radiography labs, participated in activities with the OT department, and took in the newly renovated simulation center!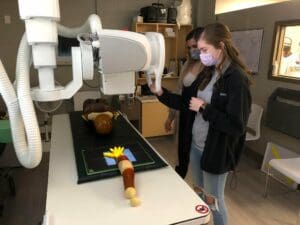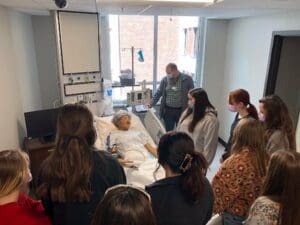 Daisy Award
Robert Kinney, Cox College alumni, was a recipient of CoxHealth's Daisy Award for going above and beyond to help patients! Robert is an RN in the emergency department at Cox North and was nominated by a colleague for his work in providing resources to a non-English-speaking, homeless patient.
From CoxHealth:
"We worked all day trying to get the patient someplace to go… Rob is fluent in Spanish and was able to communicate with this patient. He took care of this patient all night and then stayed late to help me continue calling to look for someone to help this man out."
"After running into dead end after dead end, Rob decided to take this patient to church with him and see if this church would help. Rob said, 'Jesus won't let me send him to the street.'"
"Rob is such an exceptional human and the absolute best nurse I have ever worked with. Rob could have just discharged this man with a list of shelters and let him figure it out on his own, but instead, he chose to help this man. This is only one small example of how Rob goes above and beyond in his job duties and is just a good person."
Congratulations, Robert!
SMSCA workshop
We were honored to be this year's sponsor for the Southwest Missouri School Counselor Association (SMSCA) workshop!
Counselors have such a vital role in the lives of students at every level. We appreciate everything they do!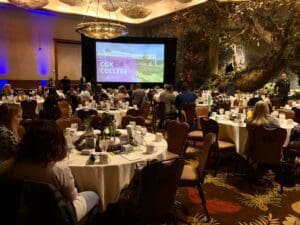 Career Fair
The Cox College career fair will be on April 20! Take advantage of this opportunity to:
– Meet with organizations who are eager to hire students of all programs
– Tune up your resume at the resume review station
– Speak with admissions about furthering your education
All attendees will be entered into a drawing for Cox College apparel! See you there!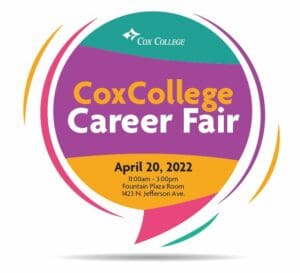 Important hotline numbers to note
In a crisis or feeling distressed? There is free and confidential support available to help you. Representatives are ready to help with resources to address your situation with the hotline numbers listed below.
National Suicide Prevention Hotline 1-800-273-8255
Domestic Violence Hotline 1-800-799-7233
Crisis Text Line 741741
Crisis Hotline for Southwest Missouri 1-800-494-7355
24-hour Burrell Behavioral Crisis Center 417-893-7735
Cox North Security 417-269-3715
Cox South Security 417-269-6120
How to submit news for future editions of The Chronicle
If you would like to submit Cox College related news to be considered for the next edition of The Chronicle, please send an email to Kyle.DeVries@coxcollege.edu.