Cox College Chronicle | May 2022
Thank you to the brave men and women who have served our country; we remember and honor those who made the ultimate sacrifice. We sincerely hope you had a great Memorial Day weekend and were able to spend some time in reflection.
Graduation
On May 13, 196 students officially became health care professionals! We are so proud of their hard work and persistence. They are ready for the next step.
Best of luck to all of our graduates as they begin a new chapter in their lives. We're rooting for you!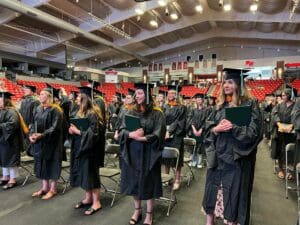 Longtime Cox College employee retiring
Debbi Groves has been a beloved faculty member at Cox College for 26 years and has worked at CoxHealth for a total of 36 years! She has a special ability to connect with students, and has been instrumental in making the Cox College simulation experience one of the best in the region. We will miss Debbi so very much, but wish her the best as she transitions to a well-deserved retirement.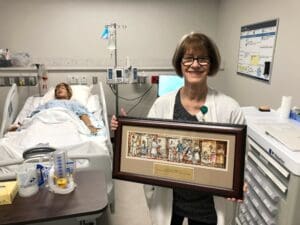 Pinning Ceremony
It's always special to witness the bond between the students and their loved ones as they complete the pinning process. The act of pinning the graduate is a beautiful way for parents, children, and professors to show respect, pride, and admiration for what the student has accomplished.
This was our first Nightingale pinning ceremony since December, 2019 – we're glad it's back!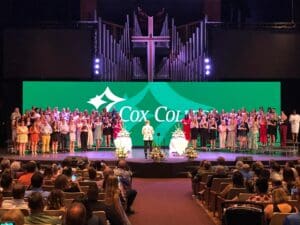 President's List
Congratulations to our students who made the President's list for the spring 2022 semester! The President's List recognizes students for outstanding academic achievement.
https://coxcollege.edu/presidents-list-spring-2022/
Important hotline numbers to note
In a crisis or feeling distressed? There is free and confidential support available to help you. Representatives are ready to help with resources to address your situation with the hotline numbers listed below.
National Suicide Prevention Hotline 1-800-273-8255
Domestic Violence Hotline 1-800-799-7233
Crisis Text Line 741741
Crisis Hotline for Southwest Missouri 1-800-494-7355
24-hour Burrell Behavioral Crisis Center 417-893-7735
Cox North Security 417-269-3715
Cox South Security 417-269-6120
How to submit news for future editions of The Chronicle
If you would like to submit Cox College related news to be considered for the next edition of The Chronicle, please send an email to Kyle.DeVries@coxcollege.edu.