Cox College Chronicle | October 2023
New program in Cox College's Nutrition Diagnostics department
It's official! Cox College has been approved to launch a Master's in Nutrition Diagnostics Graduate Program next spring! This innovative program is a fast-track to becoming a Registered Dietitian Nutritionist (RDN).
Students in the RD fast-track program will be empowered with a deeper understanding of nutrition and its impact on human health. RDNs are uniquely qualified to identify and process nutritional health-related problems, and our students will be trained in evidence-based methods to learn these skills.
A significant benefit for this program is the ease of entry. This is a 16-month, three semester master's program and students do not need an undergraduate degree in nutrition or dietetics to apply. Our Nutrition Diagnostics faculty is an impressive group and we're so excited to see where they take this program!
View the RD Fast-Track page here: https://coxcollege.edu/college-programs/mndgp/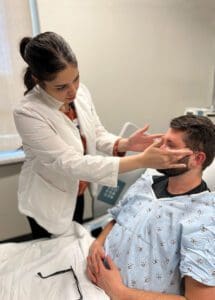 Kansas City Chiefs Raffle Winner
The winner of our Kansas City Chiefs ticket raffle drawing was Farrah Harlow from CMG Financial Services! We hope you enjoy the game.
We raised nearly $17,000 for our student emergency fund through the Chiefs raffle!! We are blown away by the amount of participants. Thank you SO MUCH for supporting our students. Additionally, thank you to the CoxHealth Foundation for assisting us with this fundraiser! We couldn't have done it without their help.
Nightingale Ceremony
Cox College's Nightingale Ceremony is December 14 at Evangel University's Spence Chapel! Friends and family are encouraged to join us in celebrating with our graduates on this special evening.
We hope to see you there!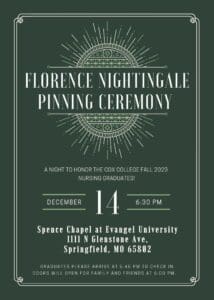 Important hotline numbers to note
In a crisis or feeling distressed? There is free and confidential support available to help you. Representatives are ready to help with resources to address your situation with the hotline numbers listed below.
National Suicide Prevention Hotline: 988
Domestic Violence Hotline: 1-800-799-7233
Crisis Text Line: 741741
Crisis Hotline for Southwest Missouri: 1-800-494-7355
24-hour Burrell Behavioral Crisis Center: 417-893-7735
Cox North Security: 417-269-3715
Cox South Security: 417-269-6120
How to submit news for future editions of The Chronicle
If you would like to submit Cox College related news to be considered for the next edition of The Chronicle, please send an email to Kyle.DeVries@coxcollege.edu.