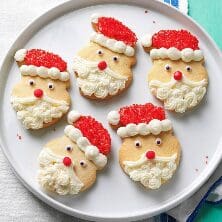 Healthy Holiday Baking Swaps
This article was written by Lexie Buchman, a student in our Nutrition Diagnostics program. 
Baking sweets with friends and family around the holidays is a yearly tradition!  This year, I implore all to explore different ingredient substitutions to boost your nutrition.  After all, a vast part of baking is about being creative! Swapping specific ingredients from the original recipe for the modified recipe will reduce the calorie intake, add essential vitamins and minerals, as well as encourage a healthy lifestyle.
Sugar for Applesauce
Try swapping out sugar for applesauce in your sugar cookies this year! By substituting unsweetened applesauce, you are adding phytochemicals to your recipe which can prevent diseases such as cancer, diabetes, and heart disease.  In addition, applesauce contains vitamin C which can strengthen your immune system along with help fight off diseases. Applesauce contains more fiber compared to cane sugar which in turn, positively impacts your blood glucose response. In this recipe, there is a total of 3g of fiber coming from the applesauce for the full batch of cookies. To make this substitution, you can substitute out equally for sugar if not heated, but in baking recipes you will substitute one cup sugar for ¾ cup applesauce and reduce milk or liquid used by one-quarter.
Ground Flax for Eggs
A vegan diet is growing popularity throughout the years.  If you are wanting to try something new or simply forgot to pick up the eggs from the store, try making a ground flax egg!  Flaxseeds have a similar texture to eggs once mixed with water. It forms a gel-like consistency that mimics eggs. If choosing to go this route, you should use 1 tablespoon of ground flax mixed with 3 tablespoons of water per one egg. Flaxseeds have omega 3 fatty acids which help regulate the way our body's function, reduce inflammation, and prevent disease. Increasing omega 3 fatty acids can improve your cholesterol by reducing blood pressure, improving heart rate, and lowering your triglycerides.
Sugar for Stevia
Try baking with a natural non-nutritive sweetener this year!  Stevia is extracted from the stevia rebaudiana bertoni plant and is known for its extreme sweetness. Stevia is 250-300 times sweeter than cane sugar, therefore when substituting you will use 1 tablespoon granulated stevia per ½ cup of sugar. Decreasing the amount of cane sugar will not only benefit your body, but your taste buds too! Consuming too much sugar can lead to weight gain, obesity, and chronic diseases such as diabetes and heart disease which are some of the many factors that play a role in everyday sugar intake. The holidays can be harder for individuals who need to limit their carbohydrates and sugar.
As you can see, modifying or swapping ingredients to make a recipe healthier is beneficial to our bodies in many ways. Substituting with these alternatives can reduce overall sugar intake and boost antioxidants in your dishes. It is encouraged to continue to consume your favorite treats during the holidays, but with the number of parties you may attend try a healthier baking swap recipe to manage any diseases that could occur in the future.
Try this Recipe!
Santa Claus Low Carb Cookies
Recipe Source: Taste of Home, 2022
Ingredients:
1 C pureed avocado
1-½ C unsweetened applesauce
6 T flaxseeds and 1 T water
1 teaspoon vanilla extract
3-1/2 cups wheat flour
1 teaspoon baking soda
1 teaspoon cream of tartar
1/2 teaspoon ground nutmeg
1/4 teaspoon salt
Frosting:
3/4 cup unsalted butter, softened
6 tablespoons 2% milk
2-1/4 teaspoons vanilla extract
1/4 teaspoon salt
1 T Stevia
4 raspberries, 2 miniature semisweet chocolate chips (for the eyes), and 1 Red Hot (for the nose), optional- Dark chocolate chips
Directions
In a large bowl, add avocado and stevia until light and fluffy. Beat in flaxseeds and vanilla. In another bowl, whisk wheat flour, baking soda, cream of tartar, nutmeg and salt; gradually beat into creamed mixture.
Preheat oven to 375°. On a lightly floured surface, roll each portion of dough to 1/4-in. thickness. Cut with a floured 3-in. Santa-shaped cookie cutter. Place 2 in. apart on greased baking sheets.
Bake 8-10 minutes or until light brown. Remove from pans to wire racks to cool completely.
For frosting, in a large bowl, beat butter until creamy. Beat in milk, vanilla and salt. Gradually beat in stevia until smooth. Decorate cookies according to picture or as desired!
References
Belajar. (2022, May 13). 1 packet of Stevia equals how many teaspoons? Science Topics. Retrieved December 5, 2022, from https://sciencetopics.quest/trending-ask/1-packet-of-stevia-equals-how-many-teaspoons/
Dark chocolate baking chips. Lily's Sweets. (n.d.). Retrieved December 5, 2022, from https://lilys.com/products/dark-chocolate-baking-chips
Felix, A. A. (2022, April 18). How to replace all purpose flour with whole wheat flour? Brady's Landing. Retrieved December 5, 2022, from https://theurbanbaker.com/oven/how-to-replace-all-purpose-flour-with-whole-wheat-flour.html
Healthy eating pyramid. The Nutrition Source. (2020, October 22). Retrieved December 5, 2022, from https://www.hsph.harvard.edu/nutritionsource/healthy-eating-pyramid/
Healthy Holiday Baking SWAPSDR. Jeffrey Wise. Dr. Jeffrey Wise. (n.d.). Retrieved December 5, 2022, from https://www.drwise.com/blog/healthy-holiday-baking-swaps/
Holiday baking guide: What swaps are worth it? Bowflex. (n.d.). Retrieved December 5, 2022, from https://www.bowflex.com/blog/holiday-baking-swaps.html
How is stevia leaf extract made? Stevia.com. (n.d.). Retrieved December 5, 2022, from https://www.stevia.com/2016/10/03/how-is-stevia-leaf-extract-made/
How to use avocado to substitute butter in baking and desserts. California Avocados. (2021, September 3). Retrieved December 5, 2022, from https://californiaavocado.com/how-to/how-to-substitute-avocado-for-butter/
Kannall, E. (2018, November 27). Flaxseed vs. eggs. Healthy Eating | SF Gate. Retrieved December 5, 2022, from https://healthyeating.sfgate.com/flaxseed-vs-eggs-9239.html
Langton, N. (2021, January 11). How to substitute applesauce for Sugar. Healthfully. Retrieved December 5, 2022, from https://healthfully.com/substitute-applesauce-sugar-5162415.html
Rohini Radhakrishnan, E. N. T. (2021, August 3). How does sugar affect health? 6 harmful effects of sugar. MedicineNet. Retrieved December 5, 2022, from https://www.medicinenet.com/how_does_sugar_affect_health/article.htm
Shoemaker, S. V. (2019, May 14). Stevia vs. Sugar: Nutrition facts, calories, carbs, and more. Healthline. Retrieved December 5, 2022, from https://www.healthline.com/nutrition/stevia-vs-sugar
Stevita Naturals. (2021, June 3). How to bake with Stevia. Stevita Naturals. Retrieved December 5, 2022, from https://stevitanaturals.com/how-to-bake-with-stevia/
Team, T. P. H. (2019, July 18). Holiday Baking Swaps. Pack Health. Retrieved December 5, 2022, from https://www.packhealth.com/holiday-baking-swaps/
WebMD. (n.d.). Applesauce: Health benefits, nutrients per serving, preparation information and more. WebMD. Retrieved December 5, 2022, from https://www.webmd.com/diet/health-benefits-applesauce