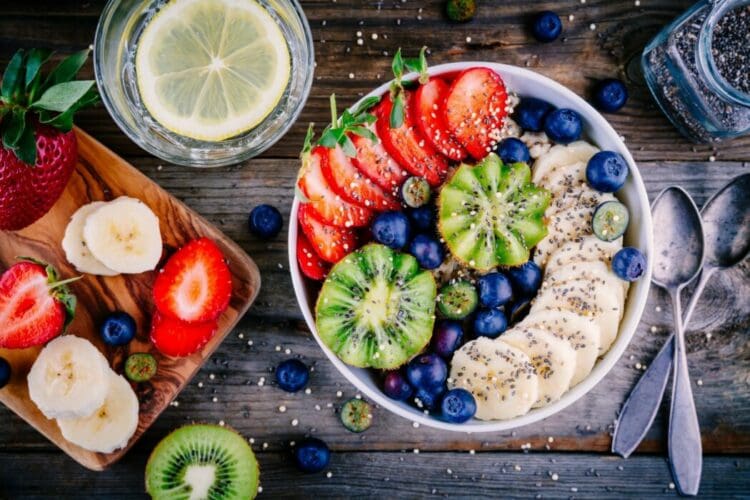 On-the-Go Breakfast for Busy Families
This article was written by first-year graduate students in Cox College's Master of Science in Nutrition Diagnostics Program, Emilee Lantis and Hannah Ross.
Mornings are a busy time for most of us. We barely give ourselves enough time to get ready before heading out the door, often not leaving enough time to eat breakfast. Observational cross-sectional studies have shown that individuals who commonly skip breakfast have lower intakes of important nutrients such as calcium, iron, folate, and other vitamins, and may have an increased risk for developing diabetes, high blood pressure, high cholesterol, and heart disease. Today, many people are more likely to omit breakfast because of the popularity of intermittent fasting or because of the misconception that cooking breakfast takes too much time. However, eating breakfast can be easy by making some quick on-the-go breakfasts that can be frozen ahead of time and reheated when needed, setting your day off on the right foot. By eating a healthy meal packed with protein and fiber, you'll be full and focused until lunch time. Keep reading to learn three easy to make breakfast options. 
Egg bites pack a great punch since they can easily be made ahead of time and grabbed quickly as you head out the door. Simply whisk a dozen eggs in a large bowl with your favorite mix-ins such as: bell peppers, spinach, cheese, ham, turkey sausage, onions, mushrooms, spices, etc.. Bake in muffin tins (350

°

F for 20 minutes) or a cake pan (350

°

F for 15-18 minutes) and cut to size. The egg bites can be stored in a container in the fridge or freezer, then reheated in the microwave before you head out the door!

 

Breakfast sandwiches or burritos are another great option, and often liked by kids. Simply prepare sandwiches or burritos to your preference using ham, cheese, eggs, mushrooms, peppers, spinach or any other favorites. We suggest using whole wheat english muffins or tortillas for an extra fiber boost. Wrap each prepared item tightly in aluminum foil and store in a single layer in a sealable plastic bag. To reheat, unwrap from the aluminum foil, and loosely wrap in a moistened paper towel. Place on a microwavable-safe plate and heat for about 2 minutes until fully heated.

 

Overnight oats are another great option. This does not require reheating in the morning; simply grab and go. This cocoa banana recipe is sure to be a hit with kids too!

 
Mix 2 cups rolled oats, 1 ½ cups of milk (your choice), ½ c. plain greek yogurt, 1 mashed banana, 1-2 tbsp cocoa, and 1 tbsp honey or maple syrup in a large bowl. Portion ½ – 1 cup of oatmeal mixture into a container with a lid and refrigerate overnight or at least 1 hour. Remove from the refrigerator and top with additional toppings such as fruit, shredded coconut, or chopped nuts for personalization. Oats can be eaten cold or warmed in the microwave for 30-60 seconds. These can be stored in the refrigerator for 2-3 days. 
All of these ideas are great if you have time to meal prep. But, if we are being realistic, there are many days that meal prepping simply is not an option.  
Granola bars and yogurt can be great no-prep options, if you select the right ones.

à

Granola bars are often packed with added sugar, so aim for a bar with less than 10g of added sugar, with more than 2g of protein and at least 3g of fiber to keep you full until lunch. 
When looking for yogurt, select an option with less than 20g of total carbohydrates, which includes added sugar. Flavored yogurts are typically higher in sugar, so selecting a plain yogurt and adding honey and whole fruit is a great way to control the amount of sugar. Greek yogurt is typically higher in protein than regular yogurt with a thicker texture that many people enjoy. Top off your yogurt with chopped nuts or granola for a boost of fiber to keep you satisfied.

 
Start your day off with a filling and quick meal to power you through your mornings. Try getting the kids involved in the process by helping select their add-ins, rolling burritos, or wrapping sandwiches. Hopefully these tips will help set you and your family up for a successful week! 
Article written by Emilee Lantis and Hannah Ross. Emilee and Hannah are first year graduate students in the Cox College Master's in Nutrition Diagnostics Program. 
References: 
Jeyakumar , A., & Ghugre, P. (2017, August 24). Is lack of breakfast contributing to nutrient deficits and poor nutritional indicators among adolescent girls? Europe PMC. Retrieved April 25, 2022, from https://europepmc.org/article/MED/28838293  
Demory-Luce, D., & Motil, K. (n.d.). Adolescent eating habits . UpToDate. Retrieved April 25, 2022, from https://www.uptodate.com/contents/adolescent-eating-habits?search=importance+of+breakfast+&source=search_result&selectedTitle=1~150&usage_type=default&display_rank=1  
Recipes adapted from: