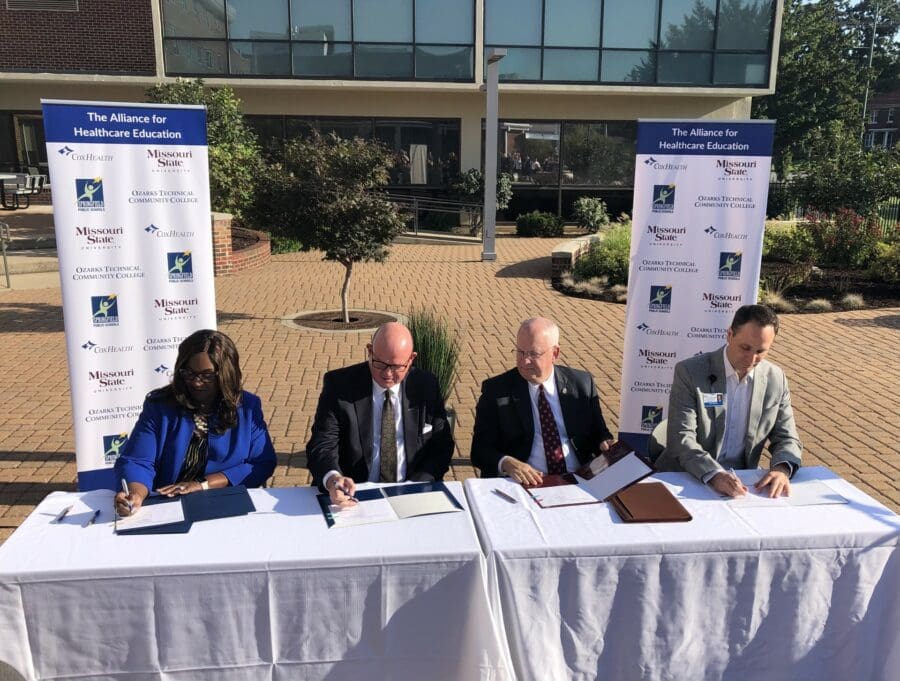 The Alliance for Health Care Education
Dear Cox College Students and Alumni,
We are writing to share news that will shape the future of health science education in our region.  After extensive discussions and careful consideration, we are pleased to announce that CoxHealth will be joining the Alliance for Healthcare Education (the "Alliance").
The Alliance is a nonprofit corporation created by CoxHealth, Missouri State University ("MSU"), Ozarks Technical Community College ("OTC"), and Springfield Public Schools ("SPS").  The Alliance's mission is to form an educational enterprise that will create a seamless secondary and post-secondary educational experience.  This bold, collaborative approach to healthcare education seeks to develop the talent to meet – and exceed – our region's healthcare workforce needs for decades to come. The Alliance will create unprecedented and exciting opportunities for students across the region, with Cox North serving as the primary educational site.
The goal of the Alliance is to coordinate resources among member institutions for the benefit of students and the community.  Additionally, the Alliance will grow in the future to include other participating organizations. Cox College will continue enrolling new students in its existing programs though the Spring 2025 semester. Thereafter, Cox College will no longer enroll new students. The Alliance is targeted to open in Fall 2025.  As of that time, Cox College students will have the opportunity to complete their education at Cox College or enroll with MSU or OTC, as partners of CoxHealth in the Alliance.  For students who continue their education at Cox College after the Alliance's opening, Cox College will remain fully operational for the period necessary to teach ongoing programs through completion. Once Cox College programs that commenced in Spring 2025 have concluded, Cox College will close, transitioning its operations to the Alliance and its members.
The decision for CoxHealth to partner with MSU, OTC, and SPS in the Alliance was made with the utmost commitment to our students' and alumni's best interests and professional pursuits. Cox College has grown to become one of the largest allied health colleges in Missouri, but we cannot meet all healthcare workforce growth demands alone. By combining our resources and expertise with our partners, we will significantly increase the number of healthcare professionals for our rapidly-growing region. In addition, this partnership will provide more opportunities for students to connect to industry earlier in their academic careers.
We are currently working with the Alliance and its members to finalize all details, which will depend in part on discussions with regulatory agencies.  Specifically, our plans related to the Alliance may be subject to approvals from the Higher Learning Commission and other regulatory bodies.
Throughout the process of transitioning Cox College operations to the Alliance, we will prioritize open communication and transparency to address your questions and concerns.  The formation of the Alliance will not impact the availability of financial aid for Cox College students, and the CoxHealth Foundation plans to continue to distribute scholarships as it has historically.  In the coming weeks, we will launch an Alliance for Healthcare Education tab on Cox College's website that will include information about the Alliance, as well as answers to frequently asked questions.
As students and alumni, your experiences and achievements have shaped Cox College's legacy, and we value your continued involvement in and support for this exciting new phase of healthcare education.  Together, we will build upon our proud traditions and forge new connections. Through the Alliance, we will create stronger, more dynamic and sustainable educational opportunities for students which will prepare them for success in the rapidly-changing landscape of healthcare education.
If you have additional questions regarding your experience at Cox College or the impact of the Alliance on your education, please contact me.
Sincerely,
Amy Wutke
Amy Wutke, Ed.D
417-269-3406
President
Cox College