The Cox College Story, From 1907 to Today
In 1907, Burge Deaconess Training School for Nurses was established with the admission of three students. Miss Jane Campbell completed her last course on December 31, 1909, and records have her comprising the Class of January 1910. On May 6, 1908, Missouri's first licensure legislation was enacted and Miss Campbell's license is dated August 8, 1910.
Class sizes remained small over the next four decades, with some years having no students enrolled. Following World War II there was a significant shortage of nurses. Under the guidance of Lester E. Cox, Burge Hospital had the services and capacity required by the State Board of Nursing to admit additional students, and 15 were admitted in January 1951.
In 1956, 100 students began living on the current campus and today's Fountain Plaza Room was the original lounge. The Helping Hands mural on the outside wall near the entrance became an icon to students who lived in the dorm.
The Burge Deaconess Training School for Nurses became a premier institution across the region. More than 2,500 nurses earned diplomas from the institution with the final Burge School of Nursing graduation held in June 1996. That year, the name was changed to Lester L. Cox College of Nursing & Health Sciences, in honor of the institution's long-time Chairman, Lester L. Cox, son of Lester E. Cox, and 49 students were admitted to the Associate of Science in Nursing degree program.
The Bachelor of Science in Nursing degree program became available in 1997. Since then, Associate of Science in Medical Assisting, Associate of Science in Radiography, Bachelor of Science in Diagnostic Imaging, Master of Science in Nursing, Master of Science in Nutrition Diagnostics, and Master of Science in Occupational Therapy, respectively, compile the list of Higher Learning Commission approved program options available through the College.
On July 15, 2008, the College Board of Trustees voted to shorten the name to Cox College. The CoxHealth Board of Directors reaffirmed the decision, and the change became official when the Higher Learning Commission also approved.
The Cox College Mission
Cox College is committed to excellence by meeting the educational needs of students and the healthcare community.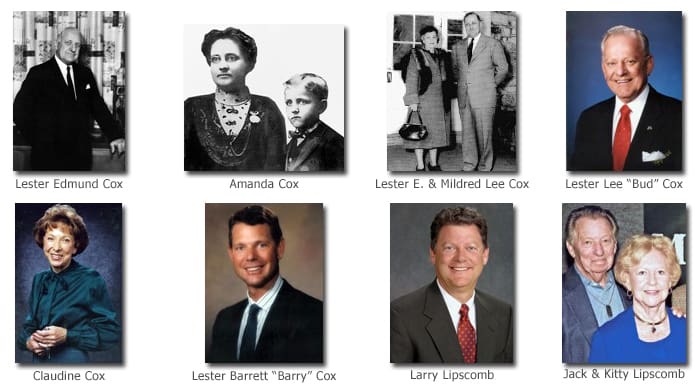 Lester Lee Cox
Burge School of Nursing, long recognized for its high standard of nursing education and the quality of its graduates, evolved to Lester L. Cox College of Nursing and Health Sciences in 1994. The name was shortened in 2008 to Cox College.
Many individuals contributed to make Cox College what it is today, but the Cox family played a significant role in the history of both CoxHealth and Cox College. Lester Edmund Cox (Lester L. Cox's father) was a well-known businessman with numerous businesses including radio and television stations, manufacturing plants, tractor and appliance distributorships, warehouses, farms, dairies, and real estate developments. Mr. Cox's favorite saying was "Find a need and fill it." In 1948, a group of doctors told him about a need – Burge Hospital and the nursing school were on the verge of closing due to financial problems. Cox was asked to join the board as chairman with a goal of bringing the hospital back into sound financial ground. Cox remembered as a child helping his mother, Amanda Cox, deliver wagonloads of food and homemade quilts to Burge patients from the Methodist Church's Ladies' Aid Society, so he decided to help. He challenged the doctors that if they would raise $75,000 he would match it. The doctors met the challenge and Cox gave them double what he had promised ($150,000).
Lester E. Cox continued to help the hospital and school until his death in 1968. Under his leadership, the hospital grew from 70 beds to 535 beds with an additional 200 beds in construction and assets of over $12 million. The dormitory and classrooms still used by Cox College were built while Lester E. Cox was chairman of the hospital's board. The School of Nursing was one of Mr. Cox's "pet" projects, and he and his wife, Mildred Lee Cox, gave many students scholarships and fundraised for many of the scholarships still in existence today. In 1969, the hospital name was changed to Lester E. Cox Medical Center to honor this businessman who had been so integral to the hospital's survival and growth.
Lester Lee "Bud" Cox was born on Nov. 6, 1922. His father, Lester E., instilled a strong appreciation for the value of the dollar in his children, expecting them all to work and hold down jobs as they grew up. Lester L. attended Westminster College at Fulton, Mo., where he obtained a degree in economics before leaving to enlist in the Army when the United States became involved in World War II. It was during this time he married his college sweetheart, Claudine Barrett. Lester L. attended Drury College for his master's degree in business administration. Lester L. and Claudine had one child, a son, Lester Barrett "Barry" Cox.
Lester L. Cox had seen his parents (Lester E. and Mildred Cox) donate both monetarily and through countless hours of their time to improve the hospital and its affiliated schools. He became equally involved and served on the board for Burge Hospital for 20 years, and was elected chairman of the board of the newly minted Lester E. Cox Medical Center after his father's (Lester E.) death in 1968. Lester L. was directly involved with the decision to purchase land in south Springfield in 1971, which later became the site of the Cox South campus. He served as chairman of the board until his untimely death in December 1993. Like his father, Lester L. recognized the importance of training for those interested in the field of nursing and health sciences. He was instrumental in changing the Burge School of Nursing from a diploma program to a degree-granting institution. Lester L. died before the transition was final. On April 20, 1994, the Lester L. Cox Memorial Committee recommended to the Executive Committee of Cox Health Systems Board that Burge School of Nursing be renamed Lester L. Cox College of Nursing and Health Sciences. The Cox Health Systems Board of Directors approved the recommendation on April 21, 1994.
Members of the Lester L. Cox family have continued to play an active role in the leadership, success, and financial support of the College and its students. Their leadership has been witnessed with Barry Cox (son) serving as chairman of the Cox College Board of Trustees from 1994 – 2003 and then continuing as a member of the board until 2006. His daughter, Amanda Barrett Cox, begin serving on the College Board in 2013. Claudine (Cox) O'Connor also served on the College Board from 1994 until 2006. Larry Lipscomb (nephew) served on the College Board from 2003 – 2007, as chairman from 2004-2006, and serves on the College Board again as of 2016. As son-in-law and daughter of Lester E. Cox, Jack and Kitty Lipscomb have worked tirelessly on behalf of nursing education. Along with the initial establishment of this fund, they continually contribute to nursing education to ensure that it thrives in the community. Along with the Jack and Kitty Lipscomb Scholarship, the Lipscomb's contribute generously to the scholarship baring Kitty's parent's names. The Lester E. and Mildred Cox Scholarship continues to grow thanks to the hard work and dedication of this family.
Lester L. Cox and his legacy will always be a pivotal point in the success of Cox College.